inThrive Chiropractic Pediatric Success Stories
It takes a good amount of trust to allow someone to hold and care for your child. That is something Dr. Randy seriously considers. Children respond well to our safe and gentle techniques. If your child is having any physical, emotional, developmental, or behavioral health issues that is robbing them of a quality life, then we want to see them right away. Please schedule their first visit here at inThrive Chiropractic.
For more information about chiropractic for children, PX Docs is a wonderful resource with articles and success stories to offer hope.
Still need some questions answered?
Contact us
today so Dr. Randy can personally answer them for you.
---
Asthma and Breathing Struggles to Super Improved Immune System and More Energy
Asher was having multiple asthma flares through flu season. The flare-ups required many breathing treatments. We made frequent trips to the ER. He was unable to naturally fight off a minor cold without struggling to breathe. He has been pre-diagnosed with asthma for a couple of years. Nebulizer every 4 hours during flare-ups and daily steroid taken throughout winter months. Asher always seemed to have low energy.
Since starting chiropractic care at inThrive Chiropractic, he has been able to fight off every little illness without disruptions. Asher has been medication free for nearly 2 full months. He hasn't had to use his nebulizer for a single flare-up since before chiropractic care began in August. In fact, Asher fought off a recent sickness better than the rest of the family members.In addition to helping his nervous system and immune system work better, Asher now is taking better naps, is sleeping better at night, and has more energy throughout the day. He is also more outgoing and talkative. Lots of big belly laughs!
This office is extremely friendly! My kids all love coming, even the kiddos I watch during the day like going to visit with Dr. Randy
- Stephanie W. AKA Mom and Asher W.
From Sensory Seeking, Speech Delays to Speaking and Socializing.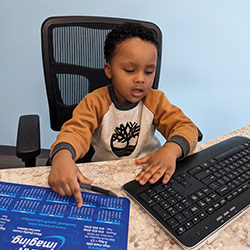 I first brought my almost 3-year-old son to inThrive Chiropractic Chiropractic for regulating his sensory needs and improving his speech delay. We have gone and continue to go to speech therapy and occupational therapy. Chiropractic care is a key addition to my son's care plan. It was the missing puzzle piece, that I'm so happy I found!
Chiropractic care has really improved my son's ability to be able to learn more at preschool. He is able to focus and gain more progress in his speech and occupational therapy sessions. Dr. Randy has taught me so much about my little guy's body and how our bodies process information.
Read more from Marian & Imran »
His teachers and therapist have noticed tremendous improvement in his eye contact, focus, body regulation, and awareness. My son is making strides in his speech as well and I'm so proud. Dr. Randy's care allows my son's body to better absorb all the information he is learning at school and therapies. It is all a cohesive plan to help my son succeed. Dr. Randy truly cares about my son's overall wellness, and he makes you feel at ease. It's amazing to see how truly invested he is in all his patients. I cannot thank Dr. Randy enough for improving my son's quality of life.
- Marian O. and Imran M.
Struggles with Anxiety, Tantrums and Rash to Self-Regulating and Decrease Skin Rash.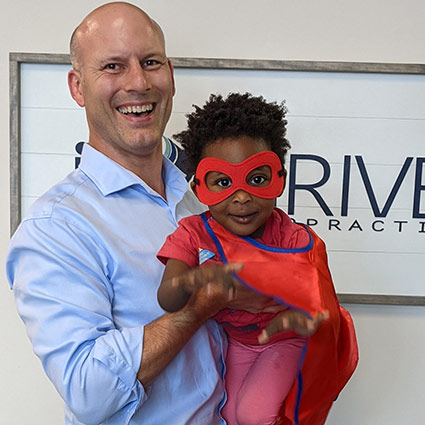 Asiya is our 3-year-old girl who was struggling with anxiety and had a very hard time relaxing. Little things would send her into a tantrum that would take her a long time to recover from. She also was very nervous, and it showed a nervous itch over her body. Eczema was an issue for her as well with open sores mostly on her feet, legs, arms, and hands. Sleeping was an issue for her also. Due to the high tension in her body, our family was always on high alert for the little things that would set her off.
It did take some time. We started to notice improvements around 4-6 weeks of care. Now that she has been getting regular chiropractic care with Dr. Randy, she has greatly improved. She very seldom has tantrums as she did before. If she does, she is able to regulate them much more quickly. She can now respond rather than react to events that bother her. She is more aware of what is going on around her which has made her more careful. Her sleep is better too. Although skin lotion and cream helped some, the adjustments made the biggest difference with her eczema. She no longer has the nervous itch and tension either. Other things that we have noticed are her appetite has increased and her vocabulary has improved significantly in a short period of a couple of months. Our family is more at peace since she is now more relaxed.
- Famata T. AKA Mom and Asiya T.
From Meltdowns, Constantly Ill, and Growing Pains to Better Homework, Better Speech, Stronger Immunity, and He Does Not Hurt to Grow Anymore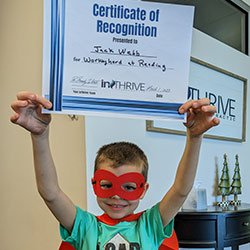 Jack's mother called inThrive Chiropractic concerned about her son becoming easily frustrated, constantly ill, having speech issues, growing pains, neck and back pains, and asthma. Jack made several trips to a primary care provider with no answers or resolution for his low immunity before visiting inThrive Chiropractic. I was a little skeptical about chiropractic care for my son Jack but thought we'd give it a try.
Jack is immune deficient. Jack recently saw an immunologist and had some bloodwork done and all his labs were completely normal. For the past 6-12 months Jack has had fluid buildup in his ears. We followed up with an ENT and got results of absolutely no fluid behind his ears after continuously seeing Dr. Randy. Jack has been able to fight off respiratory sickness on his own (no antibiotics) with just the use of his inhaler. I've also noticed he has been eating tremendously better. Jack's emotions can be all over the place. He still has moments, but nightly homework has been a lot easier for us. I have also been concerned about his speech. He wasn't able to blend his sounds together. He is pronouncing words better and is able to sit down and read a book figuring out the sounds on his own with little help. Jack is a rough 6-year-old boy. Jack has been dealing with growing pains for quite some time. He would wake me in the middle of the night just crying in pain. The growing pains are almost non-existent. Overall, I've seen dramatic changes in my son in what seems like a short amount of time.Dr. Randy truly cares about his patients and that does not go unnoticed. I am forever grateful for our experience.
- Brooke W and Jack W.
Overcoming Life Starting with Asthma and Illness to Thriving and Outgoing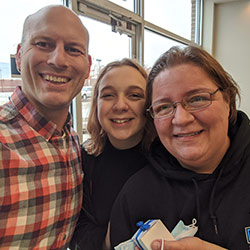 When we first visited Dr. Randy, we were not aware of the potential benefits chiropractic could give. Taylor initially had conditions of Asthma and other respiratory issues that Dr. Randy picked up on immediately during her initial assessment examination. For many years, Taylor has been plagued with respiratory issues surfacing around 10 months of age. By age 7, Taylor had been hospitalized numerous times for pneumonia, severe bronchitis, and her last visit, complications with Asthma. We were on constant watch for any respiratory inflammation issues and used a nebulizer many times around the clock to keep the hospital stays at bay.
Taylor was being robbed of a quality childhood. Many days when other children were able to go outside and play, she was forced to spend time indoors to not aggravate her issues further. With a suggestion from her pediatrician, Taylor was forced to limit her outdoor exposure when her symptoms arose. For years, every head cold, cough, and sneeze was monitored closely, leading to several doctor visits and check-ups to prevent things from getting worse.
Chiropractic care has really become a blessing for Taylor and the rest of our family. Since beginning her chiropractic care, Taylor's body has become more resilient against the effects a small infection would have caused. Symptoms before would have sent her into a tailspin of doctor visits and possible hospital stays have lessened drastically. This winter, weather-wise one of the worst in years, was the healthiest Taylor has seen her entire life! I still kept a watchful eye with every cough and sneeze, but her body was able to fight off these illnesses easier than ever before.
Aside from her respiratory issues, which are tenfold the cost of her chiropractic care, Taylor has also become a more outgoing and social little girl. In the past, Taylor would be timid around others and tended to keep to herself in many situations. Over the past year, Taylor's personality has blossomed, revealing a more positive and energetic little girl. Now she tells stories of helping others, making new friends outside of her class and grade, and even becoming the welcome wagon for new students to her classroom.
Looking back, if I would have known chiropractic care could have done even half of what it has done for Taylor, we would have been here so much sooner. Seeing really is believing. I understand and see now firsthand how relevant many of the theories Dr. Randy shares are true. Thinking logically, they're simple, yet we have been raised or taught that modern medicine is the only way to go. I highly recommend to others to at least entertain the thought that your body can (and WILL) take care of itself, what do you really have to lose? There aren't any ill side effects, and you won't become addicted… well not in a bad way!
- Christy Z., Taylor's mother
From No Sleep, Reflux, and Constipation to a Happy Family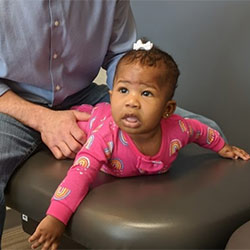 I want to start out by saying that Dr. Randy has literally changed my family's and my life. Before considering a chiropractor, my husband and I were miserable. Our daughter was always crying from her reflux pain, she was colic, and she would wake up (and I promise this is not an exaggeration) 17-21 times a night. We were so sleep-deprived and felt so helpless.
For her reflux, we saw a GI specialist, 3 different pediatricians, and an ENT and we tried medications. For her sleep, we spoke to her pediatrician, we tried sleep training, and we spoke to 4 different sleep consultants. For her colic, we were told to ride it out until she was 3 months but we also tried gripe water and gas drops. None of the things we tried worked. We were so desperate. We felt like we were failing as parents. I was up day and night researching anything we can do to help our daughter. Chiropractic care came up a few times but we blew it off because we weren't well educated on it and didn't know how adjustments can help with any of this stuff.
After passing out twice from no sleep, my husband and I decided that we might as well try a chiropractor since that was literally the only thing out there that we haven't tried. After doing some research, we found that people were very happy going to inThrive Chiropractic and saw results, especially with babies.
My daughter was about 4 months when we first visited Dr. Randy. When we first walked in, my first impression was that I loved the office's environment, Ashley, his assistant was very personable and super good with my daughter, and it was very clean and comfortable. Dr. Randy also explained to us how chiropractic care can help with all her issues. It all made sense when he explained that the nervous system controls the whole body and that's what he focuses on.
After just two appointments, my daughter slept her first 4-hour stretch. That might not seem like a lot, but I felt like a whole different person after that. Her sleep also started getting progressively better. Then, we noticed that her spit-up reduced tremendously, and so did her hiccups (which were caused by her reflux). She stopped crying and was such a happy baby in general. We saw a huge difference in her mobility too. She started being much more active and curious.
If I have one regret, it's not going to see Dr. Randy sooner. I plan if I have more kids, to take them to Dr. Randy as soon as it's allowed. I would tell anyone out there to at least try it. We tried everything with my daughter and nothing worked until we saw Dr. Randy. Even medication did not work for her.If it worked for my daughter, I am confident it can work for anyone else. I never thought I would describe my daughter as a happy baby. I told Dr. Randy that even if he tells me that my daughter no longer needs chiropractic care I will keep bringing her in because she's so much happier after we leave the office. Their interaction with my daughter is incomparable. My daughter and I always walk out of the office smiling. This has been the best decision I have made as a parent, and I have never been happier.
- Heidi C. Reya's Mother
From No Sleep to Being the Best Little Sleeper at Daycare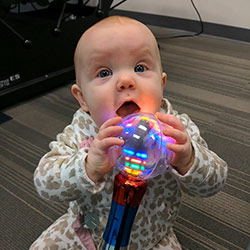 Leila, our three-month-old daughter was having reflux issues, trouble sleeping (especially at daycare), and would have episodes where she would get extremely fussy and scream/cry after feedings.We tried changing the formula and changing the frequency and quality of the feelings and gas drops with no success.It was like this for a few weeks before we sought care at inThrive Chiropractic. That is when it all changed for the better for her and us.
Our daughter is no longer having episodes where she gets fussy after feeding. She previously would become inconsolable about an hour after eating, screaming, and arching her back for 20-30 minutes. She hasn't had an episode since receiving treatment. She also had trouble staying asleep at night and napping at daycare. Daycare has now said she's the best sleeper they have in the infant class! This helped us get through the four-month sleep regression as well. She has gotten the infamous daycare runny nose and got a stomach bug 3 weeks into daycare; however, the chiropractic care has really helped her to bounce back quickly. The whole family is sleeping better, and we appreciate everything Dr. Randy has done for us!
The service and support from the entire office is excellent. They are always flexible and accommodating if we need to move an appointment or are running late. The SKED schedule app makes it easy to do that right on my phone.They are here to support us and do everything they can to make us feel welcome and comfortable.
- Lindsey and Brian G., Parents
Getting Stronger and Developing Better with Chiropractic Care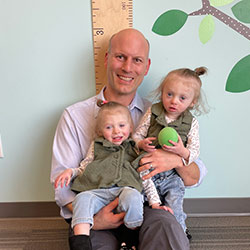 We both wanted the best for our 13-month-old twin daughters, but we felt helpless as parents. Both girls have not slept through the night since they were born and were up multiple hours multiple times. Both of us parents were extremely exhausted, to say the least. Pooping was an issue as well as they often strained and would only go every couple of days. Both girls have difficulty walking and would lean forward with their feet turned in. They tried to walk, but by the end of the afternoon, they would trip and fall and be too tired. This resorted in them being frustrated and crawling for the second half of the day. They had chronic ear infections and illnesses as well. It was hard to watch our girls struggle and we did not have the answers.
Read more from Alisha & Justin »
They were in physical therapy and that was helping some with the torticollis diagnosis. Still, we wanted more for our girls and that is when we sought Dr. Randy. At first, our families were skeptical and did not understand how chiropractic would help them, but we had to try something to help them overcome their health challenges.
We noticed a difference right away. From the very first adjustment, poops were daily and have been ever since. We noticed that they slowly started to walk better to the point that they were running about 4 weeks into care. For the first time, they were able to hold their sippy cups and raise their arms above their heads. They even started to climb the stairs. Now, they are sleeping 3-4 nights a week through the night and have more energy. That may not seem like a big deal, but it is for us. Plus, they are not sleeping curled up in a ball, they seem more relaxed when they sleep now. We are still dealing with their feet turned in and colds every now and then, but those have improved some. They are no longer W sitting (weak core muscles) and kneeling much more. Big sis even enjoys playing with them now and they play much better with each too. We get more cuddles as they are more affectionate and in a better mood. Milestones are now on schedule and their quality of life is much improved. Overall, they are much healthier and happier little girls.
My family has noticed a big difference. And even our mother is suggesting it for her friend's child. e feel relieved as parents knowing their quality of life is much better and they are growing up healthy.
– Alisha and Justin G., Isla and Emersyn's parents
Torticollis and Colic with Tears to Smiles, Laughs, and a Happy Family.
My daughter had extreme colic and would all day every day. She was clearly in pain and her head was stuck to one side. She was like this for 6 weeks before seeking care with Dr. Randy at inThrive Chiropractic. Prior to coming in we tried reflux medication, new bottles, formula changes or anything anyone recommended. We tried it all. I also cried every day and the overall mood at our house was sad/stressed.
I struggled a lot with my daughter in her first 2 months. It was a difficult time for my daughter, myself, and my husband. We have been coming to inThrive Chiropractic for well over a month and I have a completely different baby who smiles and laughs. She doesn't appear to be in pain. She can move her head and neck. It is no longer stuck in one spot. Care at inThrive Chiropractic has been very beneficial for not only my daughter but for our family. We are all happy now.
-Allie L.
Nursing Better and Digesting Better with Chiropractic Care
Since the beginning of life, 4 months ago, our baby Ezra was very uncomfortable, had problems nursing and reflux — as in spitting up all the time. This all peaked at 3-4 months. He was curling up, favoring one side of his body. Was not latching properly. By the way, it was my lactation consultant who referred me to seek chiropractic care. He started seeing Dr. Randy and within a week saw improvements. The service is very attentive. Our baby's overall comfort seems better. He eats better and is happier. Not to mention his chronic watery/pussy eye cleared up too. I wish I had sought chiropractic care for my baby sooner. I really never thought I would ever take my baby to a chiropractor for my baby and these issues but I am happy I did.
– Bre M., Ezra's Mother
From Ear Infections and Allergies to Healthy Immune System and Bonus: He Started to Grow Again
My son Pete had chronic ear infections since the age of one and a half years of age and allergy problems for 2 years.Over the years, He had 6 sets of ear tubes surgically inserted and has taken prescription medication both by mouth and by nasal spray. All of this caused other problems too. It resulted in 8 years of speech therapy due to the distortion of sounds. His allergy problems made it hard to work on the farm or go to fairs due to his itching eyes.
Since going to Dr. Randy his allergies have gone and he does not require prescription medications. Also, he grew about 6 inches. He did have growing pains, however since seeing Dr. Randy, he no longer has these pains. In one year, he grew out of 4 pants sizes due to height. He started at size 14 then 3 months size 16, three months later was 30-31 another 3 months is 30-32. He has not had to take any medications for months saving me $60 per month.
- Kathy S., Pete's mom
Never Thought I Would be So Happy Changing Diapers
When my one-month-old son randomly stopped pooping more than once a week, I started to get concerned. I spoke with our family doctor, who told me that this is not uncommon for breastfed babies and to just keep an eye on him. However, when he started screaming and crying because of gas pains, my concern grew. He would make his entire body rigid and his stomach would be tight as a drum. He was totally inconsolable when this happened and nothing I tried seemed to help. I changed my diet in an effort to cut out gas-inducing foods and beverages, but that didn't seem to make much of a difference. Baby gas relief drops helped a little with his discomfort, but I worried about giving him so much medicine. I also noticed that, although he acted hungry, he sometimes would refuse to eat because of his gas pains. I was at a loss as to what else I could try to help him.
Almost two months later, I spoke with a friend of mine, and she told me that her son had gone through the same thing when he was an infant. I asked her what she did to fix the problem and was amazed when she said she took him to a chiropractor. My experience with chiropractors was limited, but I was wary about taking my infant to one. However, the more I looked into it, the more I thought maybe it was something we should try. I stumbled upon Dr. Randy while doing an internet search (thanks, Google!), and what a great thing that turned out to be for us! At our first appointment, Dr. Randy examined my son and explained everything he was seeing in a way that was very easy for me to understand. As I listened to him, everything he was saying just made sense. He even pointed out other issues my son was having that I had not noticed! Dr. Randy put together a treatment plan for Andrew and we have been seeing Dr. Randy a few times a week ever since.
I am so happy with the progress Andrew is making with Dr. Randy. Andrew had two bowel movements within 24 hours of his first adjustment and has been pooping several times a week ever since. I never thought I'd be so excited to change diapers! The screaming gas sessions have all but stopped and he is nursing much more comfortably. In fact, we have been so happy with how well Andrew is doing that I have started seeing Dr. Randy myself for treatment of migraines! It's been so wonderful to have my child living pain-free and to have his body working the way it is supposed to without the use of medications!
- Abby M. Andrew's mom
Screaming, Rigid, and Reflux to Keeping Food Down, Snuggles and Cuddles
After reflux medication, physical therapy, and occupational therapy were not working, we knew we needed to try something else for our baby boy. Not only did he have a big problem with reflux, the constant crying, and loud screams made it difficult for us to bond with him. The screams were so loud that my husband even resorted to wearing earplugs at times. His body was tense, his little arms and legs would not move well. It was like his body was stuck in a continual state of stress he could not get out of. Considering all of this, he was not meeting his milestones and, as parents, we were beyond frustrated.
That is when I started doing more research to look for other options in the hope of finding answers for our baby. I discovered Dr. Randy, a chiropractor who specializes in helping babies and kids just like our son. During the first visit, he was able to explain all the problems our son was having based on the way the nervous system was functioning or not functioning, as was the case with our son. It was a different approach, but it all made sense to us, and the exams and scans confirmed all the problems Joshua was having.
Early on in Joshua's care, we started to notice the reflux resolve. It took longer for the stiff arms, moaning, and screaming to calm down, but Dr. Randy explained what to expect and that the road to recovery can have some ups and downs along the way. It was helpful to know all of this so we could understand the process of healing for our baby boy. He now snuggles with us which he could not do before! We are so thankful that we found Dr. Randy! Our baby is so much happier and content…. and therefore, so are we!! We have been able to bond more deeply with our precious baby boy and we have more peace in our home! Thank you so much, Dr. Randy!! We are so glad we found you!
- Nichole B. AKA Joshua's Mom
---
inThrive Chiropractic Pediatric Success Stories | (614) 705-6567