About inThrive Chiropractic
Trusted Family Chiropractic Care in Columbus, Lewis Center, Westerville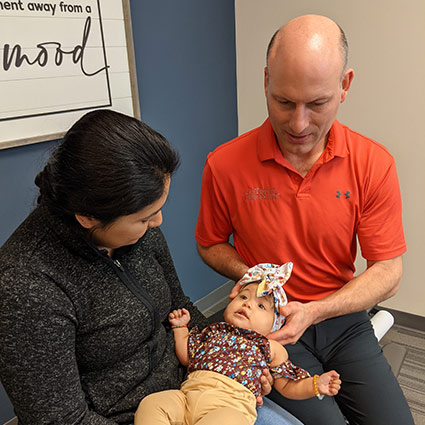 At inThrive Chiropractic, we want to be your partner in ensuring your health becomes an asset that adds value to your child, you, and your family. Once restored, let's keep it that way for the days, months, and years to come. We what you to say, "Because my child is healthier, they can focus in school, we can go out as a family to social events because the behavior is so much better, my child's not getting sick anymore, we function better as a family now" Whatever your goals are for seeking care, we hear you and want to help you with the frustration it is causing.
Regardless of your reason, we want to be that haven of hope for you and your family by looking at health in a different way. We are designed to strive to be healthy, we just need to figure out why that is not happening. You will find that our approach is different from the traditional medical approach. We rely on the body's own healing ability. We just need to figure out what is hindering that.
What Sets Us Apart
At inThrive Chiropractic we are a neurologically focused chiropractic clinic that focuses on restoring function to the nervous system. So, what does that mean to you and your child? We get to the cause of the problem and ask the question why? Why is your child's or your body not working correctly? How is your nervous system not working correctly? How can we use the presenting symptoms along with the advanced computerized scans and exams to trace back to the source of the problem in the nervous system since it is the system that controls and coordinates every little cell, tissue, organ, and system in the body? Once we find that problem, we correct it! We get great results that does not evolve the use of medication.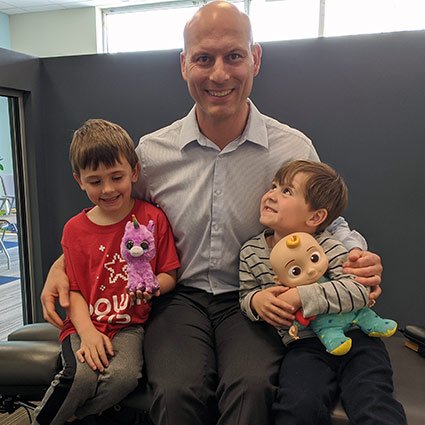 A Warm, Light-Hearted Experience
At inThrive Chiropractic play is how we relate. Dr. Randy wants each and every patient to feel at home when they visit. From sharing laughs with mom and dad to adjusting a stuffed unicorn and teddy bears, we do what it takes to ensure your family feels at ease, heard, and trusted by all ages. We want you to feel like you made the right decision in choosing us for your
chiropractic care
.
Designed With the Family in Mind
SKED Scheduling App: This app allows patients to book an appointment at any time of the day with just a few clicks on their phone. The app also reminds you of upcoming appointments and makes it a breeze to immediately reschedule appointments when life takes an unexpected turn. You are able to text our office as well for a quick response to your questions.
Special ways to pay: Keeping your card on file allows you to save time by skipping the front desk to pay. We have special payment plans that allow you to save money as well.
Easy to fill out forms: Forms are as easy as opening an email on your phone and filling in the blanks. Our new patient forms allow us to get to know you and your child before you arrive. All from your most comfortable chair at home or anywhere you choose.
Our family room: We have your baby's bottom covered in our family room which is stocked with diapers, wipes, a changing pad, and extra bags for those overflowing diapers. There is also a comfortable chair and plenty of bottled water for nursing moms as well.
Our Priority is Your Family
Dr. Randy's mission in life is to help families improve their health and wellness. It's his calling in life, one that he's been drawn to for two decades now. Contact the office today to find out how we can help you and your family live life to its fullest potential!CONTACT US
---
About inThrive Chiropractic | (614) 705-6567