Family Chiropractic Care
Chiropractic care is about the restoration of the body's self-healing ability through the regulation of the nervous system. When you increase the function of the nervous system, the body works better, and you feel better. This increased function also allows you to adapt optimally to the stream of physical, chemical and emotional stress that life consistently provides. Chiropractic offers benefits whether you're a newborn baby or an active senior!
Benefits of Family Chiropractic Care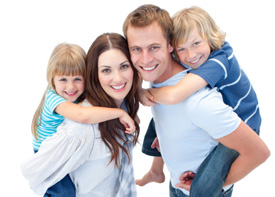 Chiropractic care has a well-deserved reputation for excellence in helping people to recover from injury and eliminate pain. Here are some of the other outstanding benefits:
Better focus
Digestive improvement
Enhanced stamina
Faster recovery from sprains and strains
Improved athletic performance
Increased energy
Our Research-based Techniques
Our treatment approach is simple: to discover your needs and goals, and to provide a solution for meeting those needs and goals. We're able to accomplish this through the following state-of-the-art techniques:
Cervical Chair : A gentle adjustment is delivered to the neck region while the patient sits comfortably in a chair.
Thompson Drop Table : A low-force, table-assisted treatment uses the weight of the body to achieve spinal correction.
Webster : A specialized technique used during pregnancy gently balances the pelvic floor, with a focus on sacral stability, which is the key to a successful birth outcome.
We also feature gentle, safe and low-force treatment options for our pediatric patients.
Our office emphasizes highly skilled, expert, cutting-edge chiropractic care. We work hard to gain your trust, and will always strive to fulfill your health needs. Contact us today!
---
Chiropractic Care Columbus | (614) 705-6567