inThrive Chiropractic Events
Free Community Workshop for Parents
The Perfect Storm: Anxiety, Autism, ADHD, & Sensory Processing
Charcuterie (meat, cheese and snacks) & Drinks Provided!
Reserve Your Free VIP Ticket Now – Limited Seats
Date:
Sept 15, 2022 at 7 – 8:30pm (Doors open at 6:30) with Q&A afterwards.
Location:
inThrive Chiropractic
8657 Sancus Blvd
Columbus, Ohio
Special Message From the Doc Himself
Dear Parents,
Decoding Neurodevelopmental Disorders: Calming The Perfect Storm for Kids Experiencing ADD/ADHD, Sensory Processing, Autism, Anxiety, & More.
An intimate in-person workshop for parents of children struggling with neurodevelopmental, learning, or behavior challenges, this paradigm shifting workshop will equip you with HOPE, HELP, & ANSWERS.
…And a clear path & plan that has changed the lives of so many families over the last 10+ years. It's time to discover the safe, effective & drug-free options that consistently improve the quality of life, health, behavior, and learning abilities of kiddos all over the world.
In a world where we are seeing a dramatic rise in Autism and that 1 in 50 children are affected…
Nearly 40% of kids and teens experience an anxiety disorder…
And ADHD, ADD, OCD, and SPD are more common than ever…
We need REAL answers & solutions that truly change lives more than ever before.
If this is something you've been searching for, reserve your seat for this in person workshop today so that you can get the hope, help, & answers that can help change everything!
Come join us for snacks and drinks while we discover why parents, providers, & educators have been celebrating this breakthrough approach presented at this workshop.
Who Should Attend The Perfect Storm?
Parents who have children who have received a diagnosis, such as ASD, ADHD, SPD, Anxiety or any other neurodevelopmental disorder.
Parents who are worried about their child's growth, development, mood, focus, sleep, eating, overall wellness and performance at home and school
Family members who help care for children who are struggling
Parents who need their family to function better
Is There Hope? We Think So!
Meet Asyia. (AKA Spider Girl)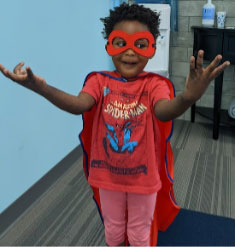 Asiya is our 3-year-old girl who was struggling with anxiety and had a very hard time relaxing. Little things would send her into a tantrum that would take her a long time to recover from. She also was very nervous, and it showed with a "nervous itch" over her body. Eczema was an issue for her as well with open sores mostly on her feet, legs, arms, and hands. Difficultly sleeping was an issue for her also.
Due to the high tension in her body, our family was always on "high alert" for the little things that would set her off.
It did take some time. We started to notice improvements around 4-6 weeks of care.
Now that she has been getting regular chiropractic care with Dr. Randy, she has greatly improved. She very seldom has tantrums like she did before. If she does, she is able to regulate them much quicker. She can now respond rather than react to events that bother her. She is more aware of what is going on around her which has made her more careful. Her sleep is better too. Although skin lotion and cream helped some, the adjustments made the biggest difference with her eczema. She no longer has the "nervous itch" and tension either. Other things that we have noticed is her appetite has increased and her vocabulary has improved significantly in a short period of a couple of months. Our family is more at peace since she is now more relaxed.
Regular weekly visits keep her functioning her best and she knows it helps. She often asked, "When is the next time I get to see Dr. Randy?" or "I need my neck and back adjusted, can I go see Dr. Randy?"
~ Famata T. (Asiya's mother)
Meet the Twins, Isla and Emersyn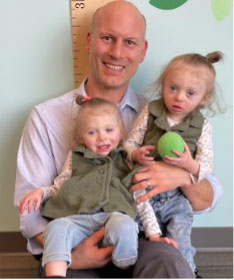 We both wanted the best for our 13-month-old twin daughters, but we felt helpless as parents. Both girls have not slept through the night since they were born and were up multiple hours at multiple times. Both of us were extremely exhausted to say the least. Pooping was an issue as well as they often strained and would only go every couple of days. Both girls have difficult walk and would lean forward with their feet turned in. They tried to walk, but by the end of the afternoon, they would trip and fall and be too tired. This resorted them being frustrated and crawling the second half of the day. They had chronic ear infections and illness as well. It was hard to watch our girls struggle and we did not have the answers.
They were in physical therapy and that was helping some with the torticollis diagnosis. Still, we wanted more for our girls and that is when we sought Dr. Randy.
At first, our families were skeptical and did not understand how chiropractic would help them, but we had to try something to help them overcome their health challenges.
We noticed a difference right away. From the very first adjustment, poops were daily and have been ever since. We noticed that they slowly started to walk better to the point that they were running about 4 weeks into care. For the first time there were able to hold their sippy cups and raise their arms above their heads. They even started to climb the stairs. Now, they are sleeping 3-4 nights a week through the night and have more energy.
That may not seem like a big deal, but it is for us. Plus, they are not sleeping curled up in a ball, they seem more relaxed when they sleep now. We are still dealing with their feet turned in and colds every now and then, but those have improved some. They are no longer "W" sitting (weak core muscles) and kneeling much more. Big sis even enjoys playing with them now and they play much better with each too. We get more cuddles as they are more affectionate and in a better mood. Milestones are now on schedule and their quality of life is much improved. Overall, they are much healthier and happier little girls.
My family has noticed a big difference. And even our mother is suggesting it for her friends child.
We feel relieved as parents knowing their quality of life is much better and they are growing up healthy.
~ Alyssa and Austin G.
Sweet Baby Reya
I want to start out by saying that Dr. Randy has literally changed my family's and my life. Before considering a chiropractor, my husband and I were miserable. Our daughter was always crying from her reflux pain, she was colic, she would wake up (and I promise this is not an exaggeration) 17-21 times a night. We were so sleep deprived and felt so helpless.
For her reflux, we saw a GI specialist, 3 different pediatricians, and an ENT and we tried medications. For her sleep, we spoke to her pediatrician, we tried sleep training, we spoke to 4 different sleep consultants. For her colic, we were told to ride it out until she was 3 months but we also tried gripe water and gas drops. None of the things we tried worked. We were so desperate. We felt like we were failing as parents. I was up day and night researching anything we can do to help our daughter. Chiropractic care came up a few times but we blew it off because we weren't well educated on it and didn't know how adjustments can help with any of this stuff.
After passing out twice from no sleep, my husband and I decided that we might as well try a chiropractor since that was literally the only thing out there that we haven't tried. After doing some research, we found that people were very happy going to InThrive and saw results, especially with babies. My daughter was about 4 months when we first visited Dr. Randy.
When we first walked in, my first impression was that I loved the office's environment, Ashley, his assistant was very personable and super good with my daughter, and it was very clean and comfortable. Dr. Randy also explained to us how chiropractic care can help with all her issues. It all made sense when he explained that the nervous system controls the whole body and that's what he focuses on.
After just two appointments, my daughter slept her first 4-hour stretch. That might not seem like a lot, but I felt like a whole different person after that. Her sleep also started getting progressively better. Then, we noticed that her spit up reduced tremendously, and so did her hiccups (which were caused by her reflux). She stopped crying and was such a happy baby in general. We saw a huge difference in her mobility too. She started being much more active and curious.
If I have one regret, it's not going to see Dr. Randy sooner. I plan, if I have more kids, to take them to Dr. Randy as soon as it's allowed. I would tell anyone out there to at least try it. We tried everything with my daughter, and nothing worked until we saw Dr. Randy. If it worked for my daughter, I am confident it can work for anyone else. I never thought I would describe my daughter as a happy baby. I told Dr. Randy that even if he tells me that my daughter no longer needs chiropractic care that I will still keep bringing her in because she's so much happier after we leave the office. :) this has been the best decision I have made as a parent and I have never been happier.
~ Hiedi C (Reya's Mom)
Register Today
Give your child that chance to get calm, connected, and happy once again – register for the Perfect Storm Workshop today!
Reserve My Ticket
---
inThrive Chiropractic Events | (614) 705-6567