"A Doctor's Confession to Powell…"
And why, despite all, I still do what I do…
Dear friend,
Confessions are tough. Real tough. But sometimes a confession can set the record straight, and I want to give credit where credit is due. Before I talk about my confession, though, let me say a few other things first.
Let me start by explaining the photo in this letter. Yes, that's me as a kid, the one on the right. That boy to my left is my twin brother Rod. Although, it does not look like it in the picture, I was sick a lot back then. Little did I know a few years later something would happen to me…
(If you're like me, sometimes I skip to the end to see the offer. This will take you right there.)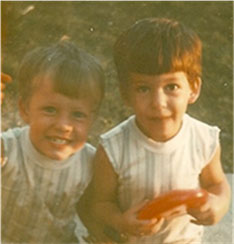 Back in second grade, something happened to me that would change my life forever.
As I was sitting in Mrs. Reiter's class, I was feeling very nauseous. "Not again" I thought to myself. It seemed like I always had a cold, blowing my nose and was missing school. Let's just say I was "sick and tired of being sick and tired." My mom picked me up and off we went.
That's when it happened!
My mom then took be to a different doctor. This doctor did not look at my throat or in my ears. He did an exam, looked at my back and then "adjusted" my spine. The adjustment did not hurt, it actually felt good. Then I went home and fell asleep for much of the afternoon. When I woke up, it was the best I had felt in a long time. Oh, did I mention that this doctor was a chiropractor. It seems like a small thing, but it made a huge difference to me. It's strange how life is, now I am taking care of the sick kids.
People also see me with their headaches, migraines, chronic pain, neck pain, shoulder/arm pain, whiplash from car accidents, backaches, ear infections, colic, asthma, allergies, numbness in limbs, pain when they are pregnant, athletic injuries, and many others just to name a few.
Here's what some of my patients had to say:
Aside from her respiratory issues, which is tenfold the cost of her chiropractic care, Taylor has also become a more outgoing and social little girl. Looking back, if we would have known chiropractic care could have done even half of what it has done for Taylor, we would have been here so much sooner.

- Christy Z.
I wouldn't know where I'd be if I didn't come see Dr. Randy. I was crippling myself to the point I was unable to do anything. Now I now feel I could do a couple of cartwheels.

- Melissa B.
I was shown that I did not have live the way I was living. I was given hope that I could enjoy the life that I once had before.

- Renshawn L.
Several times a day, patients thank me for helping them with their health problems. But I can't really take the credit.
My con-fession is that I've never healed anyone of anything.
What I do is perform a specific spinal adjustment to remove nerve pressure, and the body responds by healing itself. We get tremendous results. It's a simple as that!
You Benefit from an Amazing Offer
Look, it shouldn't cost you an arm and a leg to correct your health. You are going to write a check to someone for your health care expenses, you may as well write one for a lesser amount for chiropractic. When you bring in this article, you will receive my entire new patient exam for $27. (That's with consultation, a thorough exam and your report of what is causing your problems… the whole ball of wax. This exam could cost you $150 or more elsewhere. And, further care is affordable. Further care is very important to consider when making your choice of doctor. Higher costs can add up very quickly. (Sorry by law, this offer excludes Medicare/Medicaid beneficiaries but you can still some in to see me)
Great care at a great fee…
Please, I hope that there's no misunderstanding about quality of care just because I have a lower exam fee. You'll get great care at a great fee. I've been entrusted to take care of tiny babies to 98-year-old ladies. I even took extra classes to help pregnant women and babies with their problems.
Trust is very important when trying a new doctor, let alone trying chiropractic for the first time. So I just have that low fee to help more people who need care.
My assistant is Crystal and she is a really great person. Our office is both friendly and warm and we try our best to make you feel at home. We have a wonderful service at an exceptional fee. Our office is called inThrive Chiropractic and it is at 8657 Sancus Blvd. Columbus (We are across from Kroger fuel near Polaris Mall). Our phone number is (614) 705-6567.
Call Crystal or me today for an appointment because you do not want to miss out.
We can help you. Thank you.
- Dr. Randy Wurts
P.S. You may not need this right now, but you may know someone who does. Please pass it on to them. They will thank you for it.
P.P.S. Can you imagine not having to wait at a doctor's office? Well, your time is as valuable as mine. That's why we have a no-wait policy. You will be seen within minutes of your appointment. Plus you will be seen within a day or two of you contacting us.
---
inThrive Chiropractic | (614) 705-6567